Skip to Content
Transform Your Reading Hideaway Into a Beautiful Space
As a lifelong reader, your book collection is a part of your identity. Why not build a space that honors your love for learning and reading? We work with all kinds of wood, from Oak to Mahogany, and we design our cabinets with our customers in mind. Whether you want open shelves or glass enclosed cabinets, we offer expertly cut, built, and finished craftsmanship. A home library cuts a classy and impressive figure in your house, lending an educated an intellectual vibe to the rest of your home. For customers who work from home, we design custom cabinets with office functionality in mind. Regardless of your needs, we approach each job with pride, ensuring that no corners are cut and only the finest materials are used. That's why we are the woodworkers the Woodlands, TX trusts most.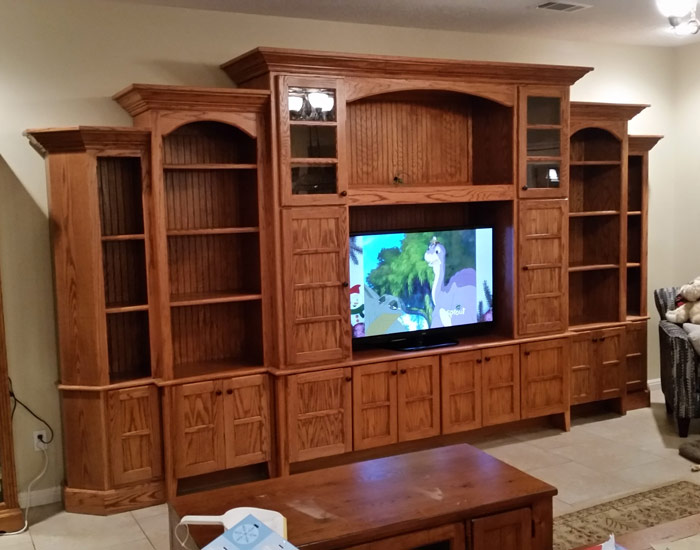 We Treat Your Home Just as We Would Ours
Why not have floor-to-ceiling bookshelves with a sliding ladder? At Bader Co. Construction, we offer top-end carpentry that adds both functionality and aesthetics to your home. From the lumber selection process to staining and finishing, our team is capable of producing high-end results for our customers. Best of all, working with a custom-cabinets carpenter means you have total flexibility, allowing you to create a living space catered to your exact specifications. At Bader Co. Construction, we pledge to always:
Use the wood you desire for your woodworking project
Take as much care in the completion of the project as he would in his own home
Operate with a quality-driven approach
Make your dream design come true
Get In Touch With Us to Get Started
Bader Co. Construction has years of experience as a woodworker and general contractor. In addition to transforming slabs and planks of wood into beautiful cabinets for a home office or library, we offer complete bathroom and kitchen renovations, as well as homebuilding services. To learn more about our services or to discuss a project with us, contact us today.
Request Your Free Consultation