Skip to Content
We Design Custom-Made Cabinets for Every Design Style
Remodeling your kitchen or bathroom might be an overwhelming enterprise, but it doesn't have to be. A custom-made cabinet remodeling project is an act of creativity, one with a blank canvas and the flexibility to do whatever you want. Whether you're a fan of sparse modern design or shiplap-based rustic architecture, the wood-based elements of your renovation project are crucial to a successful project. When it comes to kitchen renovations, convenience and quality are king, and Bader Co. Construction offers both in spades. For custom-made cabinets in the Woodlands, TX, trust us to build your dream kitchen.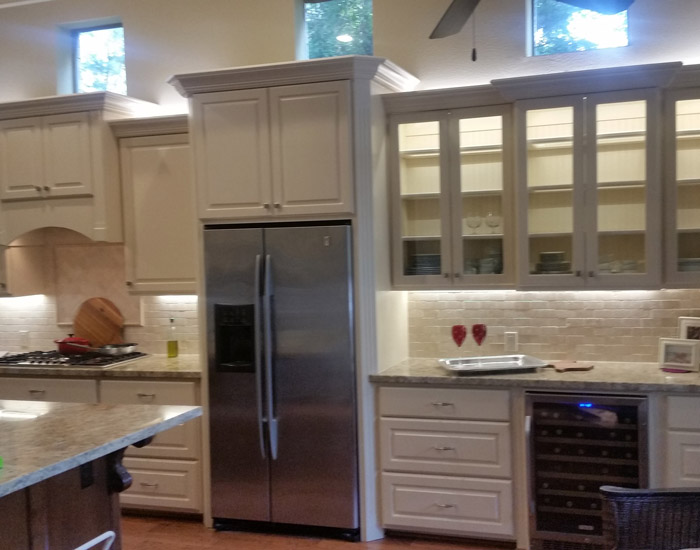 Is It Time to Replace Your Old Cabinets?
It's hard to know when it's worth investing in custom-made cabinetry. Many of our customers contact us unsure of whether the time is right. While timing is different for everyone, we have found many of our customers are faced with similar concerns. It may be time to replace your cabinets with tailor-made replacements if:
Your cabinetry is worn down or falling apart: In addition to an eyesore, broken cabinets can be a real hassle, forcing you to ensure the front of the cabinet doesn't fall off while removing plates and glasses.
The wood is warped: Over time, inferior types of wood will warp, particularly if your home has had flood or water damage. Warped wood is a great reason to embark on a custom-made cabinetry project, removing unsightly cabinets and replacing them with beautiful ones.
The design of your kitchen is outdated: Some of our clients prefer modern or contemporary styles. For some, mid-century modern is their preferred style. Just because your home's existing cabinetry doesn't fit the mold of your preferred design doesn't mean you're stuck with it.
You don't have enough space: Over the years, you've collected novelty mugs and pint glasses and received new plates and bowls as wedding or anniversary presents. But your cabinets don't grow with them. We can build larger cabinets, as well as crafty pull-out shelves for utensils and pots and pans.
Transform Your Bathroom with New Custom-Made Cabinets
We don't just build custom-made cabinets for kitchens. We transform bathrooms from cluttered, chaotic spaces, to clean and organized living areas complete with drawers and shelves for every conceivable bathroom appliance or tool. Additionally, we apply our skills to building cabinetry in studies and libraries, creating a regal aura to your home office. Display your book or record collection with pride on beautifully constructed and finished custom-made cabinets. The process starts with a call to our office.
Request Your Free Consultation