Skip to Content
Spruce Up Your Deck with an Outdoor Kitchen
Bader Co. Construction offers premium woodworking and contracting services to customers building outdoor kitchens in the Woodlands, TX. Outdoor kitchens are a relatively new addition to homeownership. In the past, outdoor cooking was the domain of the grillmaster, a place where dogs with charred and steaks perfectly seared. But in recent years, outdoor kitchens have grown in popularity due to their functionality and convenience. We take pride in our work and in our ability to deliver satisfactory results in a timely manner.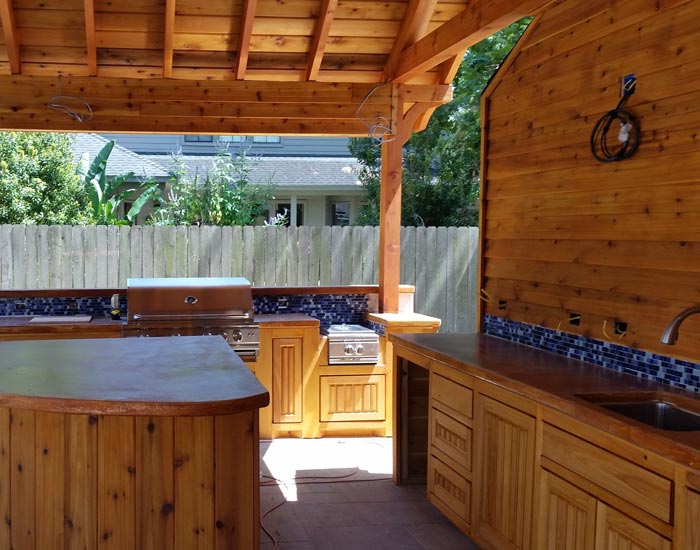 Discover the Benefits of Outdoor Kitchens
There are a wide array of benefits to installing a new outdoor kitchen, including:
Energy-Efficiency: Running the oven or stovetop, especially during the summer, places undue strain on your energy bill. In the summer, your air conditioning system is forced to work overtime, compensating for the added heat. An outdoor kitchen circumvents that problem by moving all kitchen work outside.
You can entertain guests: It used to be the grill was the center of gravity around which outdoor eating circled. But with an outdoor kitchen, you can roast a chicken in the oven and fry potatoes on the stove top, all while listening to music and watching over your children as they swim.
It makes eating outside easier: Outdoor kitchens eliminate unnecessary trips to and from the kitchen. Instead, prep the meal outside, cook it in the outdoor kitchen, and serve it on your picnic table.
It increases the resale value of your house: Just as a pool or new patio might boost the value of your house, an outdoor kitchen enhances prospective buyer's view of your home. Outdoor kitchens are an incredibly attractive feature to homebuyers.
Contact Us Today to Schedule a Consultation
We built our company on the principle that taking pride in your work creates the enduring and long-lasting results that bring joy to your customers. We've done just that over the years, offering premium, high-end remodeling work of all kinds, as well as timber framing and general contracting. Contact us today to get started.
Request Your Free Consultation